Olympic Gold
K
im Yu-Na Olympic Gold medalist
holds up her gold medal at the 2010 Vancouver Winter Olympics figure skating competition. The 2010 Winter Olympics was held at Pacific Coliseum between February 14 and 27, 2010
.
It was the 23rd edition of the figure skating event at the Olympics, and the 21st edition at the Winter Olympics.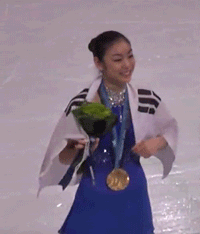 Kim was born in 1990 in Bucheon, Gyeonggi and moved to Gunpo when she was six years old. She trained initially in South Korea before moving to Toronto, Ontario, Canada, in May 2007. She spent four years in Toronto. She currently trains in Seoul and Los Angeles, California, U.S.A.
Wikipedia article. In 2008, Kim was baptized as a Catholic alongside her mother, taking the saint's name Stella.  In 2009, Kim enrolled at Korea University as a Physical Education major. The correct transliteration of her name from Korean would be 'Kim Yeona'.  However, when she applied for her passport, she intended to write her name as 'Yun-a', but the official mis-wrote her name as 'Yu-na'. In Hangul, 'Yun–a' would properly be spelled "연아" and not "유나."From the 2010–2011 season, her name was registered as 'Yuna Kim' at ISU profile.
Pacific Coliseum : Location 100 North Renfrew Street, Vancouver, British Columbia V5K 3N7 Broke ground 1966, Opened January 8, 1968 Renovated 1984, 2007 Expanded 1984 Owner and Operator  City of Vancouver.
  (below) Kim Yu-na Long Programme practice skate, George Gershwin Piano Concerto.
(below) Kim Yu-na Short Programme, James bond medley – 2010 Vancouver Olympics (한글자막) American commentary.
(below) Kim Yu-na Long Programme, Gershwin Piano Concerto – 2010 Vancouver Olympics (한글자막) English commentary.
Kin Yu-Na's figure skating performance is will be remembered as one of the best of all time.
The South Korean lady Kim Yu-Na skated into the Olympic gold medal history book's Thursday night, scoring 228.56 points and shattering her previous world record by more than 18 points. This is South Korea's first medal at the Winter Olympics in a sport other than speedskating, Kim yu-na is just 19 years old and her win will set off celebrations from Seoul to Pyeongchang.